100iu HGH Kit & Waters / Lab Tested to110iu Intex Pharma
Manufacturer: INTEX PHARMA
Product Name: HGH 100iu
Each Kit Contains:
10 x 10iu Somatropin Vials
10ml Bacteriostatic Waters
Excellent Grade HGH Kit with Waters offering the finest HGH on the market
Intex Pharma Human Growth Hormone Kit
Lab Test Results Included.
Secure Express Delivery
Description
Manufacturer: INTEX PHARMA
Product Name: HGH 100iu
Each Kit Contains:
10 x 10iu Somatropin Vials
10ml Bacteriostatic Waters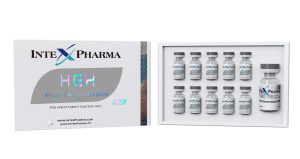 LAB TEST RESULTS BELOW = 11.43 IU PER VIAL / THIS IS STONGER THAN 10iu!!!!
↓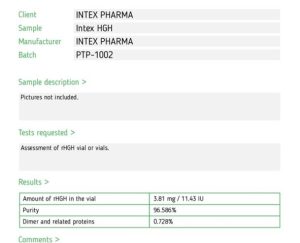 HGH is a naturally occurring hormone produced by the pituitary gland that plays a crucial role in growth, cell regeneration, and metabolism. These vials are designed for reconstitution with a suitable solution, such as sterile water, before administration via injection.
Increased Protein Synthesis: HGH is known to enhance protein synthesis, which is crucial for muscle growth and repair. By increasing the rate at which new proteins are produced, HGH may contribute to improved muscle development and recovery.
Enhanced Muscle Strength: HGH has been associated with increased muscle strength, which can support more intense workouts and potentially lead to greater gains in muscle mass over time.
Improved Body Composition: HGH has been reported to promote the reduction of body fat while simultaneously preserving lean muscle mass. This can result in a more favorable body composition, with a higher percentage of muscle relative to fat.